Luka Chuppi – Honest Movie Review
Reading Time:
2
minutes
Verdict – "A Below-Average Fare!?"
While OK Kanmani (2015) / OK Jaanu (2017) enlightens the seriousness of live-in relationships, Laxman Utekar's Luka Chuppi (2019) traverses through more of the comedic side of things in the most Indian way possible. It offers everything from the jokes, embarrassments to the irritations which comes along with the concept in a 126-minute comedy infused with funny romance.
[Warning: The following might contain mild spoilers about the plot details of the film. Please feel free skip to the next paragraph if you want to avoid reading them.] 
Starring Kartik Aaryan and Kriti Sanon in the lead roles, the movie takes place in Mathura, Uttar Pradesh, a city where a pro-Hindu political party led by Vishnu Trivedi (Vinay Pathak) directs frequents raids on teenage unmarried couples romancing/interacting in public areas and fighting against people who think live-in relationships are not a bad idea to consider. In due course, fellow television reporters Guddu Shukla (Aaryan) and Rashmi Trivedi (Sanon) [d/o Vishnu Trivedi] smitten with each other, choose to move-in with the intention of knowing each other well before getting married. Sooner than later, things turn upside down in the worst way possible, as Guddu and Rashmi entertain several frivolous ideas to triumph over their problems.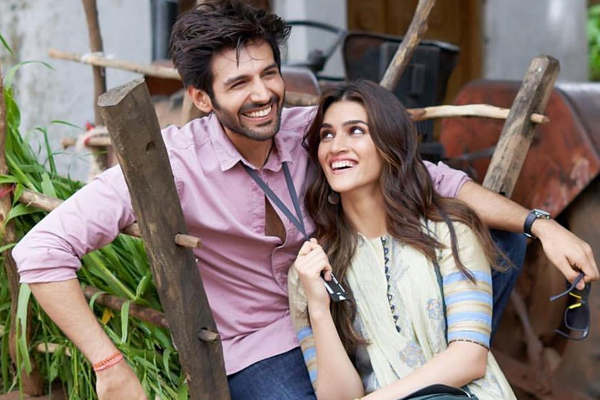 Centred around a topic, still deemed as "unsanskari" in India, Luka Chuppi was too long and dreary in its approach even for a two-hour runtime. Writer, Rohan Shankar weasels around the focal theme with a generic setup, corny love story and extremely long scenes which just become unexciting in the fullness of time. It honestly felt like the writer had few bullet points to strikethrough, and in the midst of accomplishing the task, he had to sacrifice the whole process of developing the characters who were only present to crack one joke after another.
Furthermore, this movie also suffers from the presentation of its comedic scenes, whether it's inserting random supposedly-laughable bits rather than transitioning them into the storyline. Or, interloping and messing the viewer with the most annoying and abhorrent "funny" background sound bites which do not help in elevating or making the scene funnier. That said, the incredibly talented cast make the movie work with their admirable and funny performances. Their body language, chucklesome mannerisms were entertaining at times and rescued the movie from a disaster.
Overall, Luka Chuppi ends on a promising note, but, the other 120 minutes just felt like if your family organized a below-average stand-up show. Few jokes work, and the others fell flat, few people are actually funny, and the others try their best to be funny. This movie has a few bright spots, and that's about it. Watch it if you're bored outta your mind and have nothing else to throw your money at.
Rating – 2.5/5 | Grade – C
---
Please follow and like us: