Ek Ladki Ko Dekha Toh Aisa Laga – Honest Movie Review
Reading Time:
2
minutes
Verdict – "Refreshing! Progressive! Emotional!"
When the trailer of Ek Ladki Ko Dekha Toh Aisa Laga (ELKDTAL) first surfaced, it was extremely obvious that this film was on a socially important but controversial topic. India may have moved forward in many ways, but we have remained stuck in a colonial mindset when it comes to Same-sex relationships. Until last year's landmark judgment by the Supreme Court, we even kept colonial laws that criminalized such relationships on the books. Given all that, ELKDTAL is an incredibly brave movie. The movie is about a modern romance and its struggles but the twist on the genre and the handling of the ensuing emotions are the backbones of this unconventional movie.
It should come as no surprise to anyone at this point that this movie is about the same-sex relationship between two women (played beautifully by Sonam Kapoor and Regina Cassandra). The plot is not very complex but it's the treatment that this story receives that makes it unique. The storytelling seems to drag a little unnecessarily in the first half, but its second half is sublime. In fact, some scenes that would be stapled and boring in a Rom-Com come across as so refreshing.
On the acting front, all the actors have done a great job. Regina Cassandra does a good job in a small role. Anil Kapoor seems to have a lot of fun playing father to his real-life daughter. Rajkummar Rao is probably the finest actor in Indian Film Industry and he is perfectly cast as Sahil. He carries the movie for the most part as one of its central characters, but the real star of this movie is Sonam Kapoor. She breathes life into Sweety and makes us feel everything that her character felt like someone who is not "normal" by society's standards. She brings a vulnerability to the role and makes you root for Sweety. If Rajkummar is this film's brain, then Sonam is its heart.
The real strength of this movie comes from handling such an unconventional story with sensitivity. The final act of the movie, where Sweety finally breaks her shackles and tells her family the truth, is handled quite beautifully. In the Indian mainstream movie industry, the portrayals of LGBT+ folks have never been handled sensitively (Dostana and Heroine come to mind), So hopefully this movie sparks a change there. The second half lifts the movie beyond the average rom-com and for once a movie is able to deliver a social message without being clumsy and preachy. This movie is highly recommended to everyone who has an open mind.
Rating – 4/5 | Grade – A
---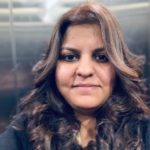 IT professional by day, Eternal Cinephile.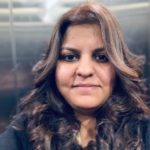 Latest posts by Anushree Chauhan (see all)
Please follow and like us: