Dev – Honest Movie Review
Reading Time:
2
minutes
Verdict – "Unappetizingly Flavourless!"
With a towering 55 cr budget and titanic expectations, Dev stars Karthi and Rakul Preet Singh in the lead roles with Prakash Raj and Ramya Krishnan stepping in as the supporting cast. The movie narrates the story of Dev (Karthi), a carefree-adventure-loving individual, who falls in love with Meghna (Rakul), a successful entrepreneur. Dev is full of life and paints the town red with his two best friends Vignesh (RJ Vigneshkanth) and Nisha (Amrutha Srinivasan). Meghna, on the other hand, is stubborn; despises men only because her father abandoned her when she was young. As the storyline picks up the threads, Dev tries to change her perception about men, showers her with love and attention. The remaining part of the plot explores how these two adverse characters tie in with their relationship romantically.
As far as the performances go, Karthi, who is just on the heels of a terrific hit, Kadaikutty Singam, is back as a chocolate boy after nine long years, as he was last seen portraying a similar role in the 2010 runaway hit Paiyaa. He effortlessly fits into the role of Dev and portrays his character with ease and tons of charisma. Moreover, his chemistry with his Theeran Adhigaaram Ondru co-star Rakul Preet Singh ceaselessly shines throughout the film with no dull moments.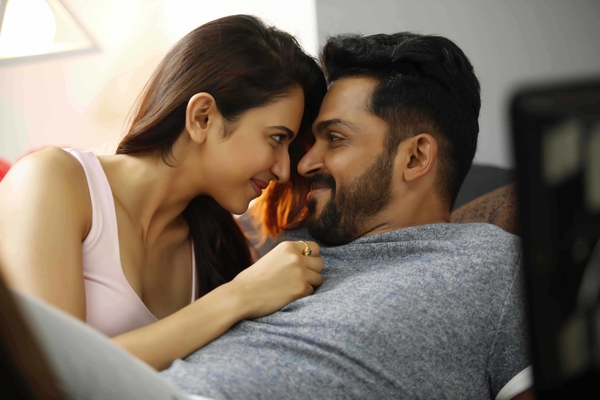 However, the major drawback of this film is its storyline itself. It appeared as an amalgamation of various other movies that we've already seen in this genre and lacked refreshing scenes. Time and time again, the movie was outright bombarded with overly clichéd sequences and over-the-top dialogues and had nothing new to offer. Additionally, the music by veteran composer, Harris Jayaraj was just mediocre. I didn't find the songs catchy or hummable, and the background music was low-key and didn't provide the much-needed emotional boost. On the technical end, because both lead characters hail from a luxurious background, the production design was rich, vibrant and looked beautiful with vivid colours. But, then again, the editing could've been crisp, which in-turn would've helped the movie to at least flow much fluently.
Overall, Dev is the same run-of-the-mill, tried and tested, routinely executed film with zero energy and no entertaining factors. It most definitely had nothing new to offer and is utterly disappointing considering the fact that it had a good pre-release hype and captivating promotional material.
Rating – 2/5 | Grade – C
A Collaborative Effort with Surya Komal
---
Please follow and like us: