Own Your Periods: A Reminder!
Reading Time:
2
minutes
In 2011, a survey conducted revealed that over 30% of girls dropped out of school in North India after they start menstruating. Talking about periods and menstruation is still considered a taboo among Indian women due to the lack of education, society's narrow-mindedness, and the shame attached to their menstrual cycle. Thus, Period. End of Sentence, an Oscar-winning documentary is a significant eye-opener for the world in its efforts to combat the stigmatization of menstruation in rural India.
The documentary starts off with clips of both men and women of all ages being questioned of their knowledge on periods and menstruation. An interesting range of answers are thrown back in the form of awkward giggles from school girls to the term, "bad blood" by older women. Additionally, it was perplexing to watch a group of boys associating menstruation to a "kind of illness" whereas grown men go about calling sanitary napkins and pads as "diapers." So acutely ingrained is the ignorance towards something as rudimentary as the concept of periods is perhaps why this documentary stands relevant in creating awareness and giving women agency.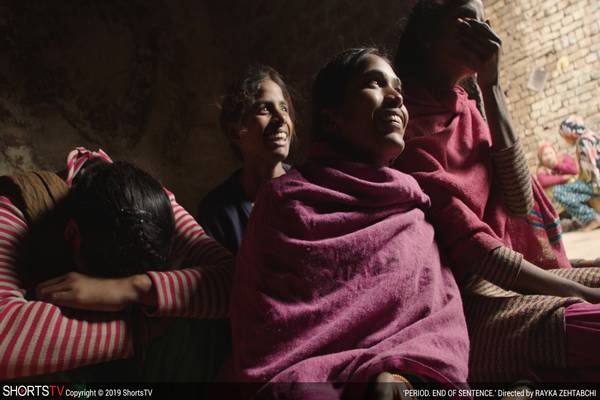 What makes this documentary stand out from the rest is that the director is earnest in her efforts to offer a solution to the problem that she identifies. A pad machine is installed in the village to be managed by women and they take it upon themselves to pass on the knowledge of menstrual hygiene to others. Towards the end of the documentary, even the men were shown to have given the opportunity to make a pad and this endeavor allows them to gain respect for women.
The narrative structure of the documentary works well where it packs the entire identification and solution process in a space of 25 minutes. The light-hearted narrative approach with its ebullient background music scores high in the feel-good factor that will help connect with the audience. Consequently, Period. End of Sentence is a tribute to womanhood and while it will not dissolve eons of deep-rooted patriarchy overnight, it is progress and the right step taken on a longer journey.
---
Please follow and like us: