Vantha Rajavathaan Varuven – Honest Movie Review
Reading Time:
2
minutes
I just made a mistake watching this atrocious film after having an enthralling experience with Sarvam Thaala Mayam. It just ruined my mood and left me with a headache.
Verdict – "Nee Varamalaiye Irundhu Irukalam…"
I initially thought VRV would be a commercial entertainer considering the fact that Sundar. C films don't compromise on the entertaining factor and glamour. But, Vandha Rajavathaan Varuvan, a remake of award-winning Telugu film 'Attarintiki Daredi' is nothing but a complete mess which would compete with 2017 film 'Anbanavan Adangadhavan Asaradhavan' (another flying sh*tbox starring STR).
Adithya (STR), the grandson of Raghunandhan (Nassar), a business-tycoon in Spain, returns to India in search of his paternal aunt Nandhini Prakash (Ramya Krishnan). A family conflict, when Nandhini married Prakash (Prabhu), a small-time lawyer then, without the consent of her father, leads to his fury as he sends them out of his house. Years later, Raghunandhan realises his mistake and wants to reunite with his daughter. Adithya promises his grandfather to bring her back for his 80th birthday and leaves to India.
Wow! Exciting right? Well searched and researched, innovative and original. In an era, where content-rich movies like 'Ratsasan' and 'Pariyerum Perumal' are highly appreciated by the audience, Sundar C had delivered such a senseless film. I'm not against commercial movies; they do provide entertainment to the movie-going public expecting a quick escapade from their mundane life. But, that doesn't mean a well-established director can offer a moronic movie. Another downside of the film was its background score. Hip Hop Tamizha's BGM was too loud and irritating most of the time.
STR looks dapper, ultra-modern with his chubby cheeks, belly and man boobs. In the upcoming years, with this physique, he could probably make a biopic of his father T. Rajendar without any makeup. Catherine Tresa and Megha Akash serve their purpose of being the glam girls.
The only significant, positive aspect of this film was Yogi Babu. He came as a life saviour and provided a comforting 15 minutes comedy relief. Without further whining, this movie will most likely feature in the Top 5 Worst Movies of 2019 list as it is worthy to call this film, 'Horrendous!'
My Rating – 1/5 | Grade – D
---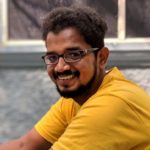 This is Nirmalraj from Chennai and I founded this website with my friend in 2012. Since then, we are focused in bringing quality content, reviews which are not biased and thrive on giving the audience our honest insights about any movie or series'. Over the years I have watched countless number of movies and have written reviews for most of them, primarily focusing on Tamil movies. I am mostly into any kind of movies and have no particular favourite genre. I idolize Superstar Rajinikanth and my favourite films & series are Vaaranam Aayiram, Baashsha, Inglorious Basterds, The Dark Knight, Game of Thrones, Black Mirror and much more.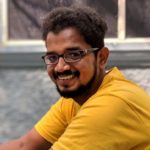 Latest posts by Nirmal Raj (see all)
Please follow and like us: