Sarvam Thaala Mayam – Honest Movie Review
Reading Time:
2
minutes
When was the last time a director-music director combo pulled the crowd to the theatre? This magical combo of Rajiv Menon and A.R. Rahman who gave us two memorable films Minsara Kanavu and Kandukondain Kandukondain is back after a long gap with Sarvam Thaala Mayam.
Verdict – "A Musical Extravaganza!"
Starring G. V. Prakash Kumar and Nedumudi Venu in the lead roles, the film also stars Vineeth, Kumaravel and Aparna Balamurali as the supporting cast. The film is about Peter Johnson (G.V.Prakash Kumar), who is an ardent 'Thalapathy' Vijay fan and son of mridangam (musical instrument) maker Johnson (Kumaravel), aims to master mridangam from the acclaimed Vembu Iyer (Nedumudi Venu). He is always fascinated by the beats and gives his best shot to learn the instrument but faces hardship in the form of Mani (Vineeth), an assistant of Vembu Iyer who discriminates him. How Peter crosses all the odds to win a classical music reality show forms the rest of the plot.
The movie displayed the griefs and sorrows of a lower-middle-class musical instrument maker, a man's struggle to learn what he loves, and caste based discriminations. But, Rajiv Menon took a back seat by not having any controversial dialogues, but his scenes spoke for themselves. In most cases, people would get bored watching movies of this genre, but to my surprise, I found myself and many others in the theatre sitting on the edge of the seat for few scenes before the interval and during the climax. It wasn't a thriller, but the intensity of the scene made the audience hooked.
G. V. Prakash Kumar was a perfect match for the role of a carefree youth who whiles away his time in the name of a fan club. He pitches in into the role and has performed well understanding the characters requirement. Nedumudi Venu as the renowned mridangam artist is a self-asserting and a soft-toned person and the Guru-Shishya relation between him and GVP was illustrated subtly in the climax scene.
A. R. Rahman is without a doubt the main protagonist of the film as it was an absolute delight to listen to his mridangam notes throughout the film. However, movies of this genre (musical) tend to have more songs, but, STM strikes uniquely and demonstrates the difference between Rahman and his counterparts; scoring whenever and wherever necessary.
Overall, Sarvam Thaala Mayam was melodious, rich in visuals, produces many volumes of emotions and also sheds light on casteism which is still prevailing in the society. It was a well-provided and varied experience indeed.
Rating – 3.75/5 | Grade – B+
---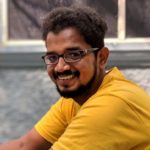 This is Nirmalraj from Chennai and I founded this website with my friend in 2012. Since then, we are focused in bringing quality content, reviews which are not biased and thrive on giving the audience our honest insights about any movie or series'. Over the years I have watched countless number of movies and have written reviews for most of them, primarily focusing on Tamil movies. I am mostly into any kind of movies and have no particular favourite genre. I idolize Superstar Rajinikanth and my favourite films & series are Vaaranam Aayiram, Baashsha, Inglorious Basterds, The Dark Knight, Game of Thrones, Black Mirror and much more.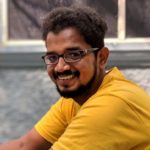 Latest posts by Nirmal Raj (see all)
Please follow and like us: