Top 5 Bollywood Songs with Beautiful Lyrics
Reading Time:
3
minutes
Over the years Bollywood has presented us with some mindblowing soundtracks, and it would be difficult to choose the Five Best Lyrics out of them. Whether it's a hard rock dance number which forces your legs to groove or a heartfelt love melody which leaves you in tears, Bollywood presented us with one gigantic playlist. Amongst all the "Four Bottle Vodkas" and "Baaki Baatein Peene Ke Baad" Bollywood has also introduced us to few fantastic songs with beautiful lyrics. So, here's my list of some of the most beautiful lyrics curated from 100s of musical moments in Indian Cinema.
---
5. Channa Mereya
Movie – Ae Dil Hai Mushkil (2017)
Music – Pritam
Singer – Arijit Singh
Lyrics – Amitabh Bhattacharya
Is there any song out there which can project the pain of a one-sided lover, better than this one? Channa Mereya is an ode to breakups and heartbreaks. With Arijit Singh's soulful voice, soothing music and Amitabh Bhattacharya's mesmerizing lyrics, this song is a perfect combination of everything. It still leaves me in pieces every time I listen to this part:
"Tere rukh se apna raasta
Mod ke chalaa
Chandan hoon main
Apni khushboo chhod ke chala
Mann ki maaya rakh ke
Tere takiye tale
Bairagi, bairagi ka sooti chaula
Odh ke chalaa"
Translation:
Looked at your face and turned away to my path
I'm like sandalwood
Left my fragrance behind and moved forward
Leaving the desires of my heart with you,
I leave draping a linen cloak of saints
---
4. Maana Ki Hum Yaar Nahin
Movie – Meri Pyari Bindu (2017)
Music – Sachin-Jigar
Singer – Parineeti Chopra
Lyrics – Kausar Munir
That break within the song ideally defines an expression of unsaid and uncomprehensive feelings for a close friend. With doubt, she isn't able to state this unusual yet familiar bond between them, but, she will eventually fall for him. I promise you will listen to this song on loop and will feel the pain within the lines.
"Raaste mein jo milo toh
Haath milaane ruk jaana ho…
Saath mein koi ho tumhare
Door se hi tum muskaana
Lekin muskaan ho aisi
Ki jisme ikraar nahin
Lekin muskan ho aisi
Ki jisme ikraar nahin"
---
3. Aisa Kyun Maa
Movie – Neerja (2016)
Music – Vishal Khurana
Singer – Sunidhi Chauhan
Lyrics – Prasoon Joshi
Aisa Kyun Maa which comes from the biopic of Neerja Bhanot is a heart-wrenching track because it states the harsh reality of today's world and is a tribute to all the extraordinary mothers out there. This song will leave you out there, searching for tissues. The following is one of the most tremendous paragraphs from the film.
"Aankhein dikhaye mujhe jab zindagi
Yaad mujhe aati hai
 Tere gusse ki
 Daata bhi toh tune mujhe
Phoolon ki tarah
Kyun Nahi maa saari duniya
Teri tarah"
---
2. Zinda Hu Yaar
Movie – Lootera (2013)
Music – Amit Trivedi
Singer – Amit Trivedi
Lyrics – Amitabh Bhattacharya
Lootera was an excellent movie based on the novel 'The Last Leaf' by O' Henry and Zinda has to be the best thing the film offered. With some strong motivation, Zinda is one of a kind and an independent piece of art even if I pick this song out as a single unrelated to the film. That's the beauty of this song. The best part about it which will give you goosebumps is:
"Hawaaon se jo manga hissa mera,
To badle main hawaan ne saans di.
Akelepan se chhedi jab guftugu,
Mere dil ne aawaaz di.
Mere haathon, hua jo kissa shuru
Usse poora to karna hai mujhe.
Kabr par mere sir utha kar khadi ho zindagi
Aise marna hai mujhe"
---
1. Chaiyya Chaiyya
Movie – Dil Se (1998)
Music – A R Rahman
Singer – Sukhwinder Singh & Sapna Awasthi
Lyrics – Gulzar
Chaiyya Chaiyya has to be the most popular song from the late 90s. You would be lying if you say that you didn't stand in front of a mirror and perform its hook step. Now, close your eyes and think about the song. We know that all you see is a train with Malaika Arora's hip swirls and Shah Rukh Khan's headbanging, but, believe me when I say that there is more meaning to this song.
"Jinke sar ho ishq ki chaaon
Paaon ke neeche jaanat hogi.
Chal Chaiyya Chaiyya Chaiyya Chaiyaa"
Translation:
The one who lives under the shade of love,
Shall be blessed with a paradise beneath him.
Keep living under the shade of love.
---
Written by Aditi Parikh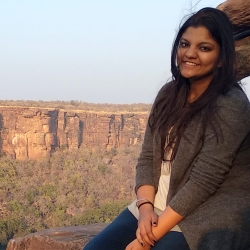 Yet another artist stuck in the body of an IT professional. Books, dark humor and twisted stories. My life revolves around it. Some say I am blunt and some even agree that I am the fakest real person they have ever met. Lazy to a level that it's hard for me to choose an appropriate emoji😬. Loving and exploring the unexplored side of Cinema. And wanting people to watch through my eyes.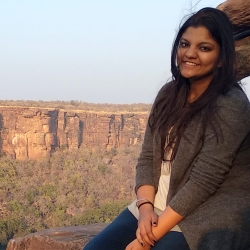 Latest posts by Aditi Parikh (see all)
Please follow and like us: