Photograph – Honest Movie Review
Reading Time:
2
minutes
Written and directed by Ritesh Batra (well known for his 2013 romantic drama, The Lunchbox), Photograph tells a compelling coming-of-age story between two strangers and stars Nawazuddin Siddiqui and Sanya Malhotra in the lead roles. Rafi (Nawazuddin Siddiqui) is a street-photographer in the city of Mumbai who hustles day and night to clear his family loan and at the same time, listens to his grandmother babble about his pending marriage situation. On the other hand, Miloni (Sanya Malhotra) comes from a middle-class family and trains rigorously for her upcoming CA examinations. Both characters get introduced to each other when Rafi takes a picture of Miloni unexpectedly, and she realizes that the person in the photograph appears happier and different (implying that she's not happy with her everyday life). The other half of the story narrates a subtle and heartfelt relationship developing between the couple in a very unordinary and an offbeat context.
Similar to his 2013 directorial, The Lunchbox, Batra immerses you into his narrative by making the best use of the city's ambient sounds. The noise and the bustle of the busy streets in Mumbai and the silly gossip between people make you absorb the vibe of the film throughout the runtime and Batra succeeds in manipulating the city of Mumbai into a living and a breathing character. Subsequently, the contrasting lead characters offer an intriguing narrative as Batra makes you connect with them by presenting their day to day activities, and at the same time doesn't make the viewer look like a fool by clarifying every little thing.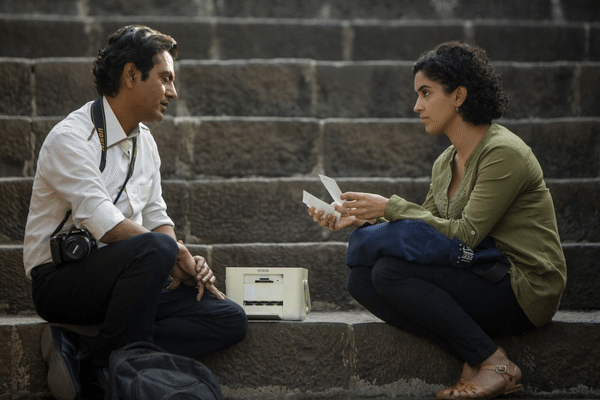 Talking about the contrasting characters, Miloni, in particular, has a very compelling story arc unfolding the life of a college-going teenager who is not finding any delight in getting good grades nor finding any peace with her family, who constantly restricts her in doing things that she likes. Sanya Malhotra plays her character with perfection. The discontent and dejection are noticeable with her body language and facial expressions, and she is steadily validating herself as a promising actress with the selection of roles from Dangal to Badhaai Ho and Photograph. Rafi, played by Siddiqui, a pure and a level-headed individual shares a very delicate relationship which flourishes in-between love and friendship with Miloni. Siddiqui puts the precise touch needed for his character and makes it work and feel empathetic to the viewer watching.
Overall, Photograph feels a tad bit too long for its 112-minute runtime but shines the brightest by focussing on the lead characters and their tender relationship. Ritesh Batra thrives as far as captivating the viewer with his proficient storytelling skills and adept filmmaking skills, whether it's incorporating lively background noises and encompassing euphonious background score which made the film tantalizing and out of the ordinary.
Rating – 3.5/5 | Grade – B+
---
Please follow and like us: