Mithai – Honest Movie Review
Reading Time:
2
minutes
Verdict – "Nonsensical and Far-Fetched!"
I still remember to this day, the only movie that I ever walked out mid-way through was Vara Prasad Potti Prasad (2011), a similar product to Mithai (2019) featuring two comedians in the lead roles. Although I didn't bail halfway through the movie, the pain and agony I went through watching Mithai reminded me of that September afternoon back in 2011 when me and my friends were dumbfounded with everything happening on-screen and finally took a stand to leave.
Starring Priyadarshi and Rahul Ramakrishna in the lead roles, Mithai (2019) directed by Prashant Kumar contracts with a straightforward storyline. Sai (Rahul), days before his perfect marriage decides to quit his displeased job as a software employee and falls into a wormhole of unfortunate events which he chooses to overcome along with his aimless friend Jani (Darshi).
Clocking just under the two-hour-twenty-minute mark, this movie felt like a chore to get through, and it's obvious that something is off right from the initial scene. The lack of inexperience of the debutant director, Prashant, was noticeable in every frame, especially when (most of) the scenes continue to move at a snail's pace for a disturbing amount of time. They're nowhere near entertaining, and the sluggish narrative punched a saturation point when the audience began to leave even before the first half.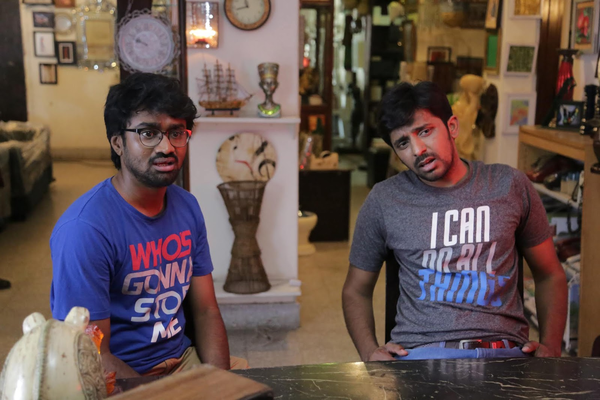 The comedy, however, works at bits and places, thanks to the incredibly talented lead cast featuring Darshi and Rahul. The chemistry between the two works and their comedic timing was on-point. But, watching them do their best to make this trainwreck of a movie work was thoroughly disheartening to watch as both the actors deserve much better than this. On a brighter note, granted that the execution and direction was complete sh*t show, the intention and the message that Prashant is trying to convey or get across through this film was commendable. The pursuit after materialistic things and dreams and the perspective of looking at our tiny lives in a casual way were beautifully narrated in a three-minute scene at the end of the movie.
Overall, this film could've worked better as a thirty-minute short, the nonsensical and far-fetched sequences only tested my patience as I felt uncomfortable sitting in the theater. Mithai is an obvious throwback to those early crackpot Ravi Babu films like Party (2006) and Ammailu Abbailu (2003) and even the talented-duo, Darshi and Rahul were unable to forbear it from a disaster.
My Rating – 1/5 | Grade – D
---
Please follow and like us: