Game of Thrones Season 8, Episode 1 Review: Reunions and Loyalties!
Reading Time:
4
minutes
Spoiler's below. Read at your own risk!
Our watch has finally ended; after waiting for 595 painful days the wait #ForTheThrone is over. The most awaited episode of the millennium, lasting for 54 minutes, HBO's Game of Thrones based on the book A A Song of Ice and Fire by George R. R. Martin is here and behold the icy white sight of Winterfell. I bet no one skipped the theme song, playing on our computers, laptops and mobile phones which left us short of breath. The theme song has changed quite a bit and the brand new opening that we only saw from up above takes us inside the castles, through some dungeons and has been cryptic all the same.
I wonder why they named the first season as "Winterfell", it might as well be named "Reunions". Talking about the first part, Winterfell, white and icy cold, welcomes their most beloved "King of the North", Jon Snow who left his kingdom in search of allies brings along quite a huge army marching towards the gates of the icy North. Folks of Winterfell are not all that excited to see a Silver Queen, Daenerys Targaryen nor her army of Dothraki; the town folk lose it when two giant dragons swoop over Winterfell and cast dark shadows underneath.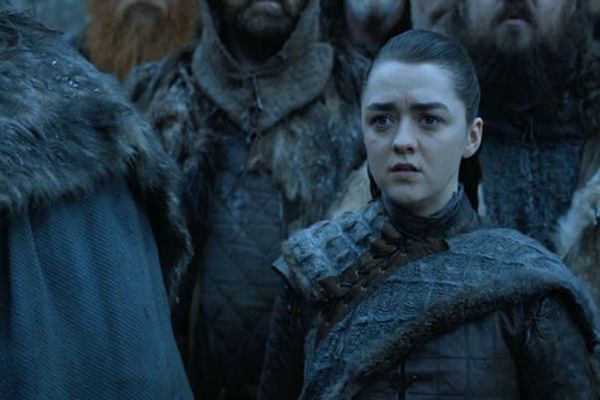 Confused and anxious, the kings, queens and Lady all sit together now cramped, alongside the lords and allies of Starks who get into a bit of discussion about game of thrones and show their skepticism at the king giving up his crown for their own protection. Lady Sansa worries about feeding the guest army and the dragons.
Lot of reunions – Jon Snow and Sansa hug each other rather quickly; what with the on slot of forthcoming war with dead zombies in the next episodes, time is precious. Jon and Bran meet and hug, Arya meets the Hound and Gendry but the most awaited scene is when Arya meets her brother Jon at Godswood, which seems rushed; the quick smile from Arya is a little off putting and seems fake.
Another reunion of exes – Sansa and Tyrion, who are still married (the marriage was never annulled nor consummated!) have an awkward conversation and it shows Sansa in a better light, wiser while Tyrion seems weak and rather anxious.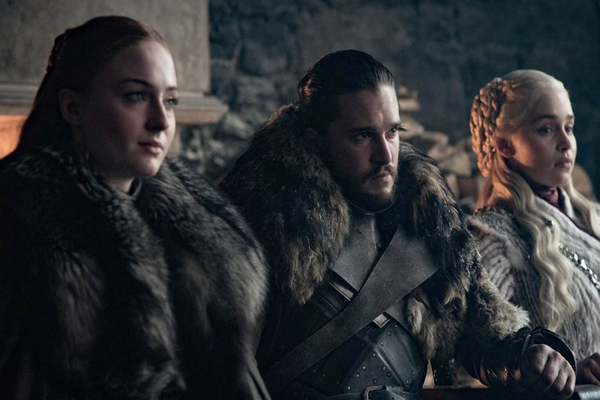 The reunions aren't over yet. Long lost brother Samwell Tarly and Jon Snow, buddies from their previous job location at the Night's watch hug it out and quickly catch up with the pending proceedings. Jon's biggest secret, his lineage is revealed and the brotherly reunion turns sour when Sam astonishes us with his poor crying. Rushed, I must say. A secret that will potentially change the course of Westeros required a much bigger and louder stage during its revelation in the dark crypts and leaves the audience less time to let out a huff. Although Jon has accepted Daenerys as his queen, with this new information, will her past deeds create a difference between them? Will his claim to throne as Aegon Targaryen get stronger?
The world has known that Jon Snow is Aegon Targaryen, son of Rhaegar Targaryen and nephew of Daenerys Targaryen, Khaleesi for over two years now and it comes to us as no surprise that he can ride a dragon! Mounting Rhaegal, Jon takes riding lessons from experienced Dany who gives only very little assurance but we see that Jon is born to fly.
'You know nothing Jon Snow'.
Last but not the least, the last bit of excitement for audience is awaiting towards the end of the episode. Known for their complex twists and turns, the show runners do like to keep us on our toes. Bran, who hugged his brother and sisters like a zombie is finally looking forward to meeting an 'old friend'. The fate of Game of Thrones would have changed drastically if this little brat in season 1, Bran Stark listened to his mother and not gone tree-climbing, which he did and led to his downfall and also gave him greenseering abilities.
Also Read: Game of Thrones Season 8: The Definitive Guide Before the Final Season
Amidst the clashing interests between Sansa, Jon, Lady Mormont and the rest we might have forgotten the King Slayer, Jaime Lannister who is now approaching Winterfell to join hands with the army fighting against the dead. While his background check doesn't look promising, Jamie might not clear the interview and gain the trust of the Northerners yet; may be a referral from Tyrion Lannister might come in handy!
The things we do for love!
Mondays have never been this exciting! The first episode did soothe my soul and can't wait for another week for the next one to be telecast. Stay tuned for more reviews!
---
Anusha Shanbhag is a freelance blogger, short-story writer, multilinguist and a public speaker as part of CGI Toastmasters Club(VP Education head). Presently living in the metropolitan Bengaluru, India working at CGI Groups as a Software Engineer. Coming from a humble background, my experiences involve conversations with people who are facing personal or emotional challenges. I aspire to publish my book and grow my career as a content writer. For more information visit my site shanbhagrocks.co
Latest posts by Anusha Shanbhag (see all)
Please follow and like us: