Badla – Honest Movie Review
Reading Time:
3
minutes
[This review was first posted on Anurag's Blog: anurags-masti.blogspot.com]
Before I talk about this week's crime thriller, Sujoy Ghosh's Badla, I want to jog your minds to the underwhelming murder mystery from 2017, Ittefaq. Starring Sonakshi Sinha, Siddharth Malhotra and Akshay Khanna, Ittefaq was a retelling of yesteryears film with the same title. The reason why I bring up Ittefaq now, is the similarity in the narrative with Badla – multiple narratives of the same crime. Also, much like Ittefaq, this Amitabh Bachchan – Taapsee Pannu starrer takes the route of complicated twists, just to appear smart. Does it succeed in appearing smart? Not really.
Naina Sethi (Taapsee Pannu) is a young businesswoman, married to a supportive husband and her work. In a mysterious turn of events, she is accused of murdering her paramour Arjun Mehta (Tony Luke). Though she pleads her innocence, she gets pulled into a criminal case thanks to various people with different motives – An Indo-British couple Nirmal Singh and Rani Kaur (Tanveer Ghani and Amrita Singh), looking for their missing son. A lawyer (Manav Kaul) who can go to any lengths to save his client. A powerful investigative lawyer, Badal Gupta (Amitabh Bachchan), who has never lost a case in 40 years. I will refrain from talking about the plot since this is a suspense thriller. But I cannot keep myself from comparing the narrative style with Ittefaq. In my review as well, I had lauded the writing since it was cleverly written to oscillate between different sides of the same crime. Similarly, Badla takes us through multiple narratives of the murder in question – Naina's story, Arjun's perspective and Badal Gupta's investigative analysis. Now, this is a very effective style of writing to keep the audiences hooked, but Badla falls slightly short of striking a chord.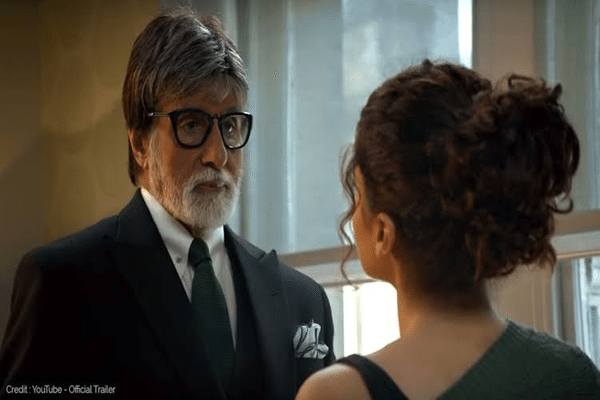 Sujoy Ghosh's 2013 superhit Kahaani was also a suspense thriller. Kahaani, which was also written by Sujoy and won him a National Award, had an intriguing style, with the right amounts of chills and thrills. This is where the writing by Sujoy Ghosh and Raj Vasant suffers, with various tropes being deployed towards the climax. Though it is an official adaptation of 2017 Spanish film, The Invisible Guest, I cannot comment how true is it to its original. Another reason why it didn't strike a chord with me, was due to the inconsistent tonality. The first-half was slower, simmering on the plot, while the second-half suddenly picks up pace, filled with multitudes of twists and turns. Having said that, the writing does not leave many loopholes and all the open ends are fastened well towards the end. (Though I could spot one anomaly. Saving that one for later) It makes for an interesting watch, but not as engrossing as it should have been.
The characters are written well, layering them enough to justify the things they do. Taapsee Pannu as a successful businesswoman, is shown to be powerful and unrepentant, though her demeanor in the opening sequence seemed inconsistent with that image. Nonetheless, she delivers what is expected of her. Amrita Singh, barring her silly banter with her husband Nirmal, is subdued and brings about a sense of mystery to her character. Amitabh Bachchan, as dynamic and captivating as ever, gets witty one-liners and uses his sharp tongue to deconstruct the mystery well. The camaraderie between Naina and Badal builds over the course of the film and adds a tinge of tension to the plot. Malayali actor Tony Luke makes a decent debut but does nothing much to write about. Though his accent seemed slightly off. Another interesting feature was the references to Mahabharat – many of which come up in the conversations between Naina and Badal. Also, Badal refers to the plot of the murder as a 'Chakravyuh' (another Mahabharat reference), which takes in Arjun (yes, a Mahabharat reference again). Ghosh seems to have a penchant for the Indian epic, since he used similar references in Kahaani as well.
Badla is a good thriller, with some strong performances and a crisp runtime. I just wish the twists in the second half were more convincing than convenient.
Rating – 3/5 | Grade – B
---
Please follow and like us: