6 Hollywood Movies Copied from Bollywood (#1 Might Surprise You)
Reading Time:
6
minutes
It took a lot of effort to read it correctly, right! We can go on and on about how bad the quality of Bollywood movies which has been eroded in the past decade. All there is to watch is a string of loosely wrapped action sequences, melodramatic scenes, and some melodies. However, there are a lot of movies that have been inspired by famous Bollywood movies to Hollywood. Below are a few popular ones you might have viewed never knowing these were inspired by Bollywood movies.
---
6. Just Go with It (2011) – Maine Pyaar Kyun Kiya (2005)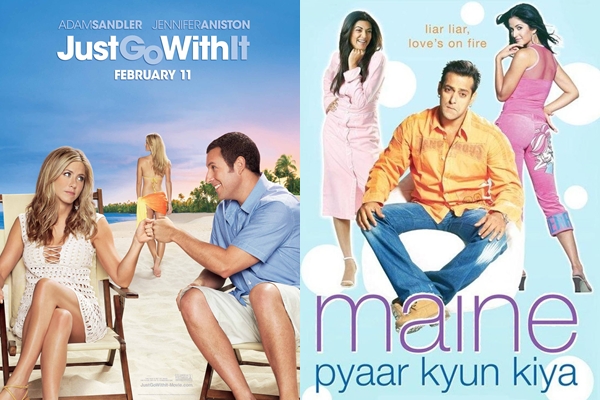 This famous Salman Khan movie is a love-triangle, comic movie aimed to entertain viewers with some classic confusion and interconnected storylines with more than one love interest for the protagonist Salman Khan, who are Katrina Kaif and Sushmita Sen. This rom-com movie hit theaters in 2005 and a few years later i.e., in 2011, similar movie comes up in Hollywood starring Adam Sandler, Jennifer Aniston, and Brooklyn Decker. In the Hollywood version, the lead character is a famous plastic surgeon and girls can't resist him; so, he pretends to be married for over 25 years until he meets Palmer. This rollercoaster movie has a viewership who are looking for the next version of chic-flick i.e., a love story based on a bunch of lies.
---
5. Pearl Harbor (2001) – Sangam (1964)
Love triangle, childhood friendship, Army recruits, plot twists including unnamed love letter or an unknown pregnancy, the two movies are very much similar for us to digress. Sangam, starring yesteryear's heartthrob Raj Kapoor, the mesmerizing Vyjayantimala and most successful 60s hero Rajendra Kumar have the lead roles in the movie where the male protagonists are enlisted in Indian Air Force, fight enemies in Kashmir and also there is a presumed death of one; Pearl Harbor has Ben Affleck Josh Hartnett and Kate Beckinsale in lead roles, form the tripod of the love triangle, enlist in World War II as first Lieutenants. After a series of misunderstandings and finally a fateful death, the plot twist allows the other to mournfully settle with the lady. While Sangam released in 1964 successfully focuses on the emotional turmoil between friends and lovers, Pearl Harbor released in 2001, fails terribly to portray World War II accurately while the love triangle is strategic and staged.
---
4. Leap Year (2010) – Jab We Met (2007)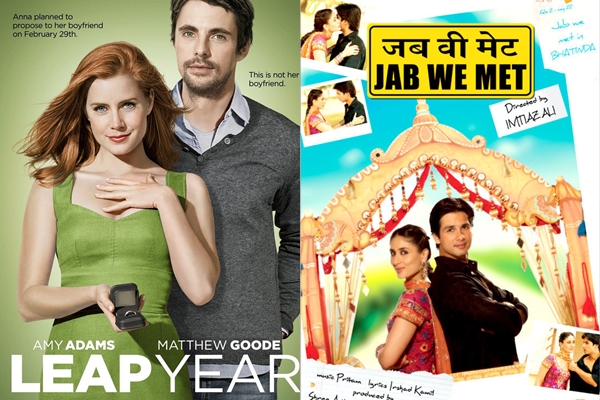 The Kareena and Shahid starrer was a huge success, owing to marvelous acting from the leads, tactic direction, skilled screenplay and feel-good story by Imtiaz Ali, who is known for his intense love stories causing heartaches to Indian Cine viewers. The songs were on top of the blockbuster list for longer than a year and gave a kick start for the actor's career. 'Jab We Met' and 'Leap Year' is about a love story that ensues between two people who are poles apart and cross paths during an unfortunate road trip where the lady is on her way to meet her destined lover but meets our hero which turns fortunate.
Although 'Leap Year' doesn't have Punjabi family melodrama nor the zest of Geet (Kareena), the protagonist Anna who embarks on a road trip with Irish Innkeeper Declan O'Callaghan is an interesting character with an interesting job as a real estate stager. The stark differences between Anna and Declan who are unfortunately bound to each other in their journey smoothens into a beautiful love story that takes place in the wilderness of countryside Ireland. Also, country-side England visions give the viewers a bucket list of places to explore like Wales, Cork, Dublin, etc.
In another movie, Zindagi Na Milegi Dobara, the famous scene where Farhan Akhtar names the expensive bag as "Bagwati" is stolen from Leap Year, as Declan names Anna's Louis Vuitton Bag as "Louie"- huh!
---
3. A Common Man (2013)– A Wednesday (2008)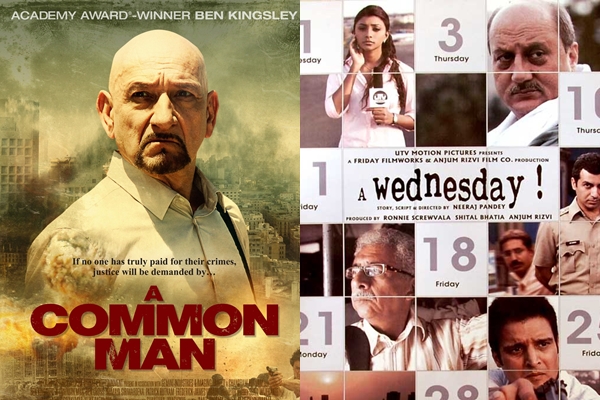 An old man with greying hair, sets up his base for operations, several sim cards, mobile phones and other electronic goods on the roof of a certain untraceable building. Four bombs are placed at different locations in a major city and the police are blackmailed by this villain, for giving in to his demands – the release of four terrorist militants. Out of desperation, as per his demands, the militants are rounded up and simultaneously intelligence bureau is tracking the malicious caller's location. The caller's wish is to kill the terrorists and not to release them and his demands are met while the police succeed in tracking the caller who is not belonging to any terrorist group but a common man, a victim seeking to avenge the terrorists who caused 2006 Mumbai Train bombings. A Common Man starring Ben Kingsley is an official remake of Bollywood's A Wednesday starring Naseeruddin Shah and Anupam Kher in lead roles. This awe-inspiring, nail-biting thriller is an eye opener that a Common Man's plight can never be underestimated.
---
 2. A Walk to Remember (2002) – Yaad Rakhegi Duniya (1992)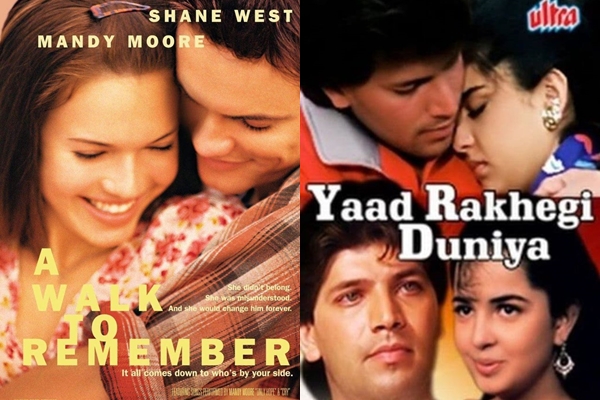 Although the Hollywood movie A Walk to Remember is not a thorough remake of Bollywood's Yaad Rakhegi Duniya, I cannot help but draw similarities between the two. Terminal illness has become a widespread movie plot for creating a grief-stricken ending. Cancer is one of the most used illness, was not very prevalent in the Cinema world before 2000. With growing carcinogens used in our daily consumption, it is not rare that many beautiful actors and actresses fall prey to this convenient plot twist, leaving their betrothed in despair, which changes their personality from a flamboyant, college student tease to a humble and philanthropic, family person by the end of the movie (character arc).
A Walk to Remember is a movie based on a novel by the famous writer Nicholas Sparks, starring Shane West and Mandy Moore in lead roles, made a mark in the romantic movie history, while Yaad Rakhegi Duniya, a Bollywood movie released in year 1992, starring Aditya Pancholi and Rukhsar Rehman, where the couple is suffering through terminal illness and try to forgo their love in hindsight of their cancer amidst love tracks and dancing failed terribly at Box office.
---
1. Fear (1996) – Darr (1993)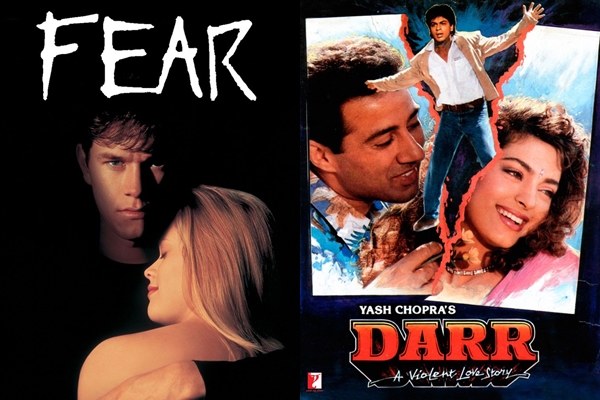 Love, obsession, hide and seek games, a chase, betrayal – this is the common recipe for both the movies Fear, a psychological thriller movie, starring a young Mark Wahlberg and Reece Witherspoon and Darr, a Bollywood Box Office hit that brought the actor Shah Rukh Khan in limelight as a negative character, where he was nominated for Best Actor in the Filmfare Awards. An overbearing father of Nicole (Reece Witherspoon) has doubts about David (Mark Wahlberg), who is dating Nicole, which turns true after he finds out David's shady background and tries to protect his daughter from the psycho.
While Darr had all the ingredients to receive National Film Award for Best Popular Film Providing Wholesome Entertainment, it blew the audience away with its sense of creepiness that Rahul (Shah Rukh Khan) casts over everyone with his obsessive stalker tendencies and scares the living breath out of young girls who usually fall prey to such advances and strive to differentiate between love and obsession. Various shades of love, lust, desperation, family implications have been portrayed by the cast, the victim aka young college girl – Kiran (Juhi Chawla) who is in love with Lieutenant Commander Sunil Malhotra (Sunny Deol).
Both movies have the lead character in a negative role, a protective father/fiancé trying to protect the young girl from the psycho, maddening and satisfying at the same time, leaving their audiences at the edge of their seats and biting nails and anxious to see the most interesting character succumb to death.
Who knew that a stammering Shah Rukh Khan uttering K-k-k-k-Kiran will bring laurels to the struggling actor who now is known as King Khan in Bollywood!
This is my list of Most famous Hollywood movies inspired by Bollywood. Do you have any such movies which have been copied or inspired from Bollywood? Do let us know your views in the below comment section.
---
Related: Top 5 Bollywood Songs with Beautiful Lyrics
Anusha Shanbhag is a freelance blogger, short-story writer, multilinguist and a public speaker as part of CGI Toastmasters Club(VP Education head). Presently living in the metropolitan Bengaluru, India working at CGI Groups as a Software Engineer. Coming from a humble background, my experiences involve conversations with people who are facing personal or emotional challenges. I aspire to publish my book and grow my career as a content writer. For more information visit my site shanbhagrocks.co
Latest posts by Anusha Shanbhag (see all)
Please follow and like us: