Alita: Battle Angel – Honest Movie Review
Reading Time:
2
minutes
Verdict – "A Sight to Behold!"
Been in development hell for well over seventeen years, Robert Rodriguez's Alita: Battle Angel stars Rosa Salazar in the lead role with Christoph Waltz, Jennifer Connelly and Mahershala Ali as the supporting cast. Similar to the recent sci-fi/action-thrillers, Snowpiercer and Elysium, the storyline of the film transpires in the year 2563. Zalem and Iron City were the two futuristic cities people, and cyborgs live after suffering through a mondo catastrophe mentioned as The Fall. Alita, a humanoid cyborg, re-programmed and rebuilt after being dumped as scrap from Zalem tries to fight against the corrupt society and concurrently tries to recollect her forgotten narrative as a battle warrior.
Betting bottom dollar on CG for the most part, this film, on that account is a visual masterpiece. The hard work and dedication put into bringing Yukito Kishiro's manga series to life are through the roof, and the entire film was a sight to behold. The production design was remarkable as it involves creating a futuristic universe and at the same time making it look dystopian yet vivid and beautiful. The visual effects were executed flawlessly cause the cyborg characters didn't look bothersome and took the life out of the film by making it look obvious. The scenes presented as being conventional thanks to the impressive performance capture technology and the actors who portrayed these characters in compact mo-cap suits. Rosa Salazar, in particular, brought life to her polygonal character who in this film, transpires from an insignificant girl to a battle warrior with extraordinary abilities.
Also, the action scenes, spread out throughout the film, were entertaining to the fullest extent. But, disappointingly, the movie doesn't seem to get going with its storyline whatsoever. It leaps from one point to another and never understands or contemplates the actual narrative. The screenplay was muddled as we're always hallucinated with the spectacle of the action sequences as the narrative takes a toll behind it. The emotion between the characters, however, come across as endearing as the relationship between Alita and her father and boyfriend was wholesome to watch.
Overall, Alita: Battle Angel bamboozles with its off-the-roof visuals, unparalleled performance capture usage and entertains with its terrific action sequences. But, the storytelling flaws diminishes the quality of the film extensively as I left the theater, not excited nor disappointed.
Rating – 3/5 | Grade – B
---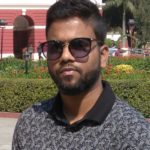 Chillin'…Dreamin'…Surviving!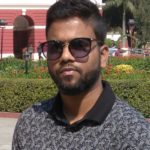 Latest posts by Surya Komal (see all)
Please follow and like us: